Development & Design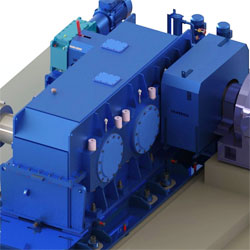 Vakoma boast ample experience in the development and design of machinery It is through mopping up trends from the market, outcome of own research, or customers' specific requirements that VAKOMA are again and again facing new and challenging tasks in development and design.
Focussing on essentials, combined with experience while incorporating the latest design techniques, enables VAKOMA to develop, design and manufacture marketable products, or improve traditional products, within a short period of time.
Thus, it was also possible in recent years to clearly improve drive technology and make marketable a number of noticeable adaptive substitute designs for drives of cement works.
In developing complex installations and plants, VAKOMA co-operate in a network with specialist companies, drawing on advanced software.
VAKOMA would be pleased to also make their expertise available to your projects or tasks.